My husband and I had been happily together for almost 2 decades. We had discussed having children but had agreed to wait until the time was right. During those 20 years, I had worked with children of all ages, but had spent at least 10 years working with babies and very young children. I loved spending time with them, love playing with them, learning about their development, kissing those little cheeks and laughing with them. I am still in contact with very many of them, some of which are like family to me in the deepest sense of the word, since we have no real family in the USA.
My reason for explaining all that, is because in some parts of my mind, I have felt that I had already done a lot of child raising and had contributed in a small part to who some of those little ones would become. I didn't have that deep need to have a mini-me running around the house, and would have been ok if our life together as a couple had stayed that way.. the two of us.
Then why have a child? Well, there was one reason, and that was to bring into our lives one more love, one more person to share all we'd learned in all these years with, a little one who we hoped would help make this world of ours a little better and a little more interesting. Bring one more being into the loving community of amazing people we had surrounding us in our lives and someone who could teach us what our flaws really are and how to be better people.
So as I was approaching 40, the matter became, can we still do this? My husband hadn't been around kids much, or experienced what I had, so the idea of having a child was almost a magical, exciting and unimaginable concept.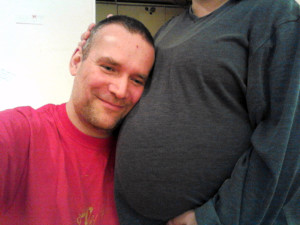 We decided that we would let the universe decide. We would stop using contraceptives for a few months and to see what happened. Well, what happened is that I got pregnant that first week!
I do realize how lucky we were. I know many people who have tried for a long time, especially at my age group. We took it as a sign, that it was time… our lives were about to change in the most incredible way, and there was this little person who was now the other piece to our lives, inside my body, waiting to join our duet.