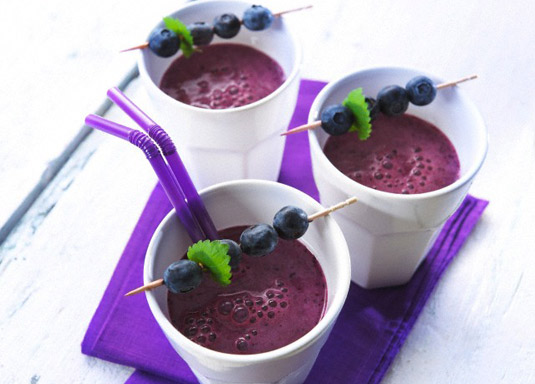 Main nutritional benefits:  This smoothie can be used as a super nutritional meal substitute, because is it so rich in nutrients and absolutely delicious, especially because the oat milk is naturally sweet . It is an excellent source of Calcium, Protein, Omega complex, vitamins A, B complex, C, E, K, Iron  and minerals.
Classification: Vegan Vegetarian
Ingredients:
1 cup of Vanilla Oat Milk ( regularly milk or other vegetarian milks can be used, but increase the amount of banana for sweetness)
1/3 Medium banana
1/4 Apple
A few blueberries ( 6 or 7 medium ones)
A few leaves of spinach (4 or 5 fresh or frozen  baby spinach)
A pinch of wheat Germ
1/2 Teaspoon of Cashew Nut Butter, peanut butter or sunflower seed butter ( can be omitted for those with allergies)
Optional: A pinch of shelled Hemp Seeds ( for a boost of Omega fats)
Preparation:
–  Using a hand blender
 or food processor, blend all the ingredients very well until there are no chunks or lumps.
Serve:
Younger babies will enjoy this fed to them with a spoon. Older kids will have fun having this in a special cup with a cool straw.
Recommended for ages: 8 months and up. For young babies it is advisable that you test the ingredients for allergies individually, especially nuts and berries, before feeding them the smoothie.