The beauty of homeschooling is that, if we want to, we can re-invent the wheel, creating a program that best suits our child. There are as many different ways to homeschool as there are kids, and endless resources to help most homeschoolers find their own way. Yet, I often get asked about our curriculum and what we use with our child. The answer is complex and not linear. I don't use a single curriculum or really do "school at home". Our homeschooling week looks like a mix of lying on the grass at the park talking about clouds for hours and getting muddy, learning with awesome groups of kids, a couple of daily routines of math and writing for a few minutes each day, weekly shows, trips  or museums, some arts and science projects, history, arts and science reading at night and some worksheets thrown in.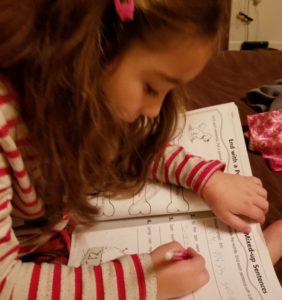 Then how do I know what we have done or worked on?
For my own sanity, I created a spreadsheet so I could keep track of what we do each week. It is divided into topics and subtopics that work for our lifestyle, and it has weekly and monthly goals. I coded it to add the numbers automatically weekly and monthly so it is easier for me to see what we have or haven't done each week and I write careful notes about what we worked on. Each spreadsheet is meant to be used for a month, so I copy the template and name it that month and year.
Some activities count as several topics at once,  such as a museum visit to the American Museum of Natural history with a friend can count as an enrichment activity, science, and socializing at the same time.
I occasionally check school curriculums just to see what they are working on at particular points in case I need to address something or do a light assessment of where she stands in standards, but usually, we follow our own way of doing things and use books from all levels depending on what she is interested in or what I feel we need to work on.
I am sharing our Kindergarten spreadsheet here in case anyone is interested in checking it out. Just know that I usually change the sheets every couple of months to suit what she is interested in or how we are working that month. The sheets change with her, so this is a vague sample sheet for those who have asked me about it.
You can find our Kindergarten template schedule by clicking here.